Special K offers the Best Spring Break Fishing Experience in Destin, Florida. We invite you to join Captain Kyle and his mate for an incredible 2022 Spring Break vacation so you can experience it for yourself. Our charters allow up to six people. A fishing trip on the Gulf is a fun time for all ages. We board from the docks at Harborwalk in Destin, the heart of all the adventures here.
We do all kinds of fishing, from bottom fishing to trolling and sight fishing. The type of fishing we do on your private fishing charter will be your choice. How far we go out into the Gulf of Mexico is dependent on your trip duration and the time of year aboard our vessel and fishing charter.
Fishing Charters In Destin
Fishing in the Gulf of Mexico is one of the fascinating things you can experience while in Destin. Nowhere else will you have the chance to see so many marine species in one trip and get the opportunity to hook a big catch on your line!
With your fishing charter, we provide gear, license, bait, rods, reels, instructions, and fish cleaning. And of course, you get our Captain and Mate!
Captain Kyle has been chartering the Gulf waters of Florida for many years and is known by anglers worldwide for putting you on the fish. He and his mate work diligently to ensure you have a once-in-a-lifetime fishing adventure with us.
We welcome new and seasoned anglers to join us. For anyone new to fishing, we can show you the ropes. You can find out why they call this the World's Luckiest Fishing Village.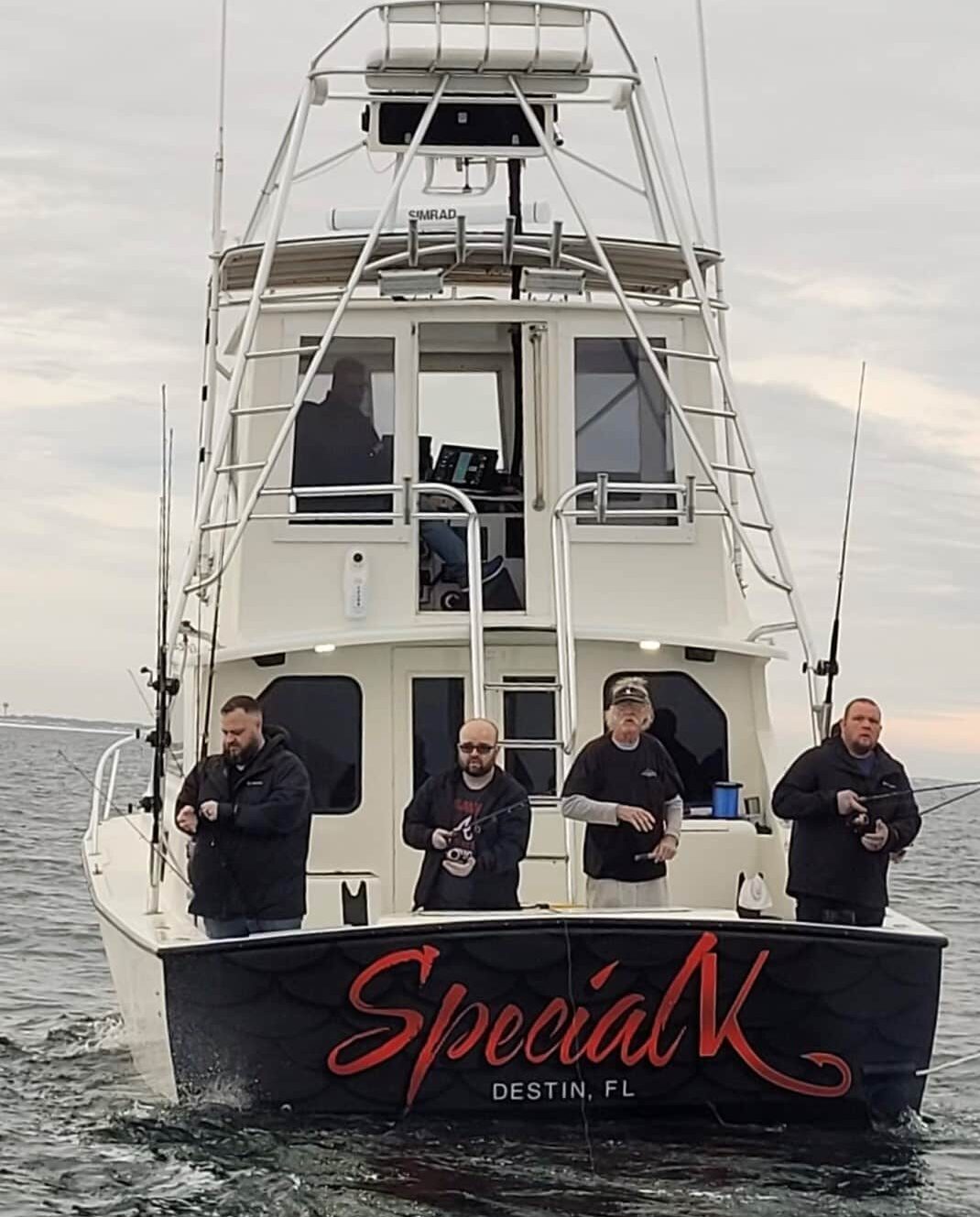 Book Your Fishing Charte
Special K Fishing Charter prides itself in marine safety. Therefore, we ask that you not bring any glass bottles to our vessel. However, we do allow you to bring canned drinks in a cooler. In addition, you will want to bring sunglasses and a hat, a towel and especially your camera so you can catch the memories with the fish.
Contact Us if you would like to book your Spring Break Fishing Charter with Special K. Get social with us by liking and following us on Facebook. Also, if you would like to see some images of our past fishing trips, check out our timeline on Facebook. Finally, read our blogs to learn more about our vessel and fishing charter.